Activity Logs & Collection Pages
Activity Logs and Collections are specific pages that form part of the workbook. They act like folders by collecting certain files (assets) that meet criterion set by you. They work by using tags to identify which assets to show on that page.
To complete these steps you must first compelete the 'workbook building' instructions at the top of this page. From within the workbook you are building, click the plus symbol to add a new page.
This time select Placeholder Page.
Then choose either Activity Log or Collection.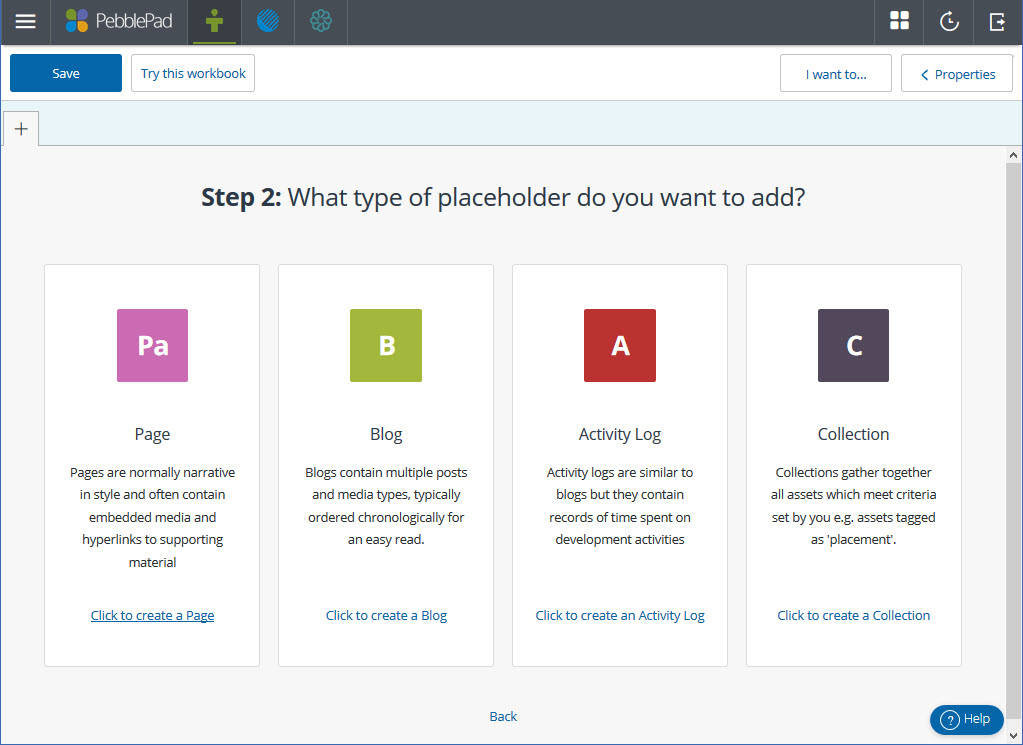 For an Activity Log, you will first see the option to define hours/points. You need to enter the target number that students are working towards, for example, 50 hours of volunteer work or 100 CPD points. Students then assign hours or points to any template (or other asset) which is added to the activity log. It will display a running total. You are able to run a report on this data. Please refer to the feedback and grades section of these guides, for more information about that. See the Tables (auto-sum) guide below for an alternative way to log hours and points.
If you do not require any hours or points, choose Collection rather than Activity Log
When the page is placed into your workbook, you will see the words 'Edit Criteria' at the bottom.
Click Edit Criteria, and a panel will open at the side.
Choose one word (or abbreviation) that relates to the items to be collected on this page. Type this in the box under 'Filter by tags' and click Add. Do not change any of the other settings. The tag is case-sensitive, so you're better off just making it all lowercase.
The bottom of the page says 'Criteria added: All asset types | Tagged with: placements' (where placements is the example tag). Students will also be able to see what the tag is for that page.